Nickel and Dimed: On (Not) Getting By in America | Book Review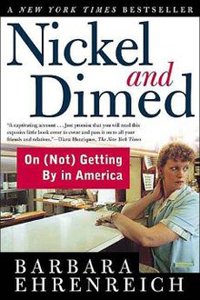 Nickel and Dimed: On (Not) Getting By in America
Original Publication Date:
2002
Genres:
Non-Fiction
Source:
I purchased this book
Goodreads
Millions of Americans work full-time, year-round, for poverty-level wages. In 1998, Barbara Ehrenreich decided to join them. But how does anyone survive, let alone prosper, on $6 an hour? To find out, Ehrenreich left her home, took the cheapest lodgings she could find, and accepted whatever jobs she was offered. Moving from Florida to Maine to Minnesota, she worked as a waitress, a hotel maid, a cleaning woman, a nursing-home aide, and a Walmart sales clerk. Nickel and Dimed reveal low-rent America in all its tenacity, anxiety, and surprising generosity―a land of Big Boxes, fast food, and a thousand desperate stratagems for survival.
Content
Nickel And Dimed Showed A Different America
Barbara Ehrenreich's non-fiction book Nickel and Dimed: On (Not) Getting By in America has become a classic of undercover investigative reporting.
Ehrenreich has a Ph.D. in Biology but went undercover as a low-wage worker in three very different parts of America: Florida, Maine, and Minnesota.
She wanted to see if she could actually make a living at jobs that barely pay the minimum wage. This book entails what happened to her while she was doing this during 1998-2000.
Florida
Ehrenreich first worked in Key West, Florida in the service industry. She applied for jobs as a cleaning woman in the many hotels in the area. Ehrenreich discovered that because she was white she was always considered for waitressing jobs instead.
As a waitress, she earned $2.43 an hour, plus tips. Even with the tips she barely made the minimum wage. The low wages for such physically demanding work were bad. However, the real problems were the lack of affordable health care and the high cost of housing.
Ehrenreich even ends up in a trailer park to try to save on rent. One waitress was mourning her boyfriend, who was killed in a scuffle in prison:
And after he was gone she spent several months living in her truck, peeing in a plastic pee bottle and reading by candlelight at night, but you can't live in a truck in the summer, since you need to have the windows down, which means anything can get in, from mosquitoes on up.
Ehrenreich is disgusted with the managers of the restaurant.
She walks out after one of the managers screams and throws things. Barbara just leaves, with customers waiting and other work undone. She has the freedom to do this because this is not really her life.
Maine
Ehrenreich "chose Maine for its whiteness." She had also heard that the Portland area needed minimum-wage workers. Most apartments were $1,000 per month and up, clearly not affordable on those salaries.
Ehrenreich found a weekend job as a nursing home aide, and a weekday job in a cleaning service called "The Maids". She also finds a place to live for $120.00 a week, and with her two jobs, she can barely make it. Working 7 days a week is rough, too.
She starts to like working at the nursing home. The cleaning job is brutal and physically exhausting, Some of the workers only eat one meal a day. They don't make enough money to buy food in quantity. Some must rely on food vouchers in order to buy food.
Minnesota
Ehrenreich goes to Minnesota and works in a Walmart, not as a salesperson, but as putting clothes away from the fitting rooms and folding the clothes on the sales floor. There are many carts of clothes to put away each day:
At Wal-Mart, as opposed to say Lord & Taylor, customers shop with supermarket-style shopping carts, which they can fill to the brim before proceeding to the fitting room. There the rejected items, which are about 90 percent of the try-ons, are folded and put on hangers by whoever is staffing the fitting room, then placed in fresh shopping carts for Melissa and me. So this is how we measure our workload –in carts.
Ehrenreich likes her manager, but the job is monotonous. Most of the workers cannot afford to buy medical insurance. Ehrenreich never works on a cash register. She is horrified by the retail culture, where customers are referred to as "guests" and employees as "associates".
The job is tiring because of the late nights, and she is weary when she gets home. As always, the most difficult part of working a job such as this is finding a place to live that she can afford on her Wal-Mart salary, which is $7.00 an hour. She lives in a frightening motel where she feels very vulnerable and unsafe, but still charges the outrageous weekly rent of $245.00. Barbara finally concedes defeat and realizes that she simply cannot make it in Minnesota on Wal-Mart wages and the high rent of motels.
Final Analysis
The biggest weakness of Nickel and Dimed is that Ehrenreich can just leave anytime she wants to. She also has a cushion of over $1,000 to fall back on. One of her rules for the project is that she won't be homeless. She'll fall back on her cushion if she needs to do so.
On the other hand, she is very brave. To live in trailer parks and motel rooms that are clearly not in safe neighborhoods, she was putting herself in very risky situations when she did not have to do so. I really admire that.
Nickel and Dimed: On (Not) Getting By in America is an important book that should be read by everyone who is interested in how the almost invisible class of the working poor try to survive in an America of low wages, extremely high rents, and no national health care.
UPDATE
You can read this great 2020 New Yorker piece about Ehrenreich:
Barbara Ehrenreich Is Not an Optimist, but She Has Hope for the Future
Similar Books
You may also enjoy my review of Punching In: The Unauthorized Adventures of a Front-Line Employee by Alex Frankel.
If you are interested in the labor movement, you may enjoy my photos of The American Labor Museum in New Jersey.
Thank you for reading The Literary Lioness!