The Orchard: A Memoir by Theresa Weir | Book Review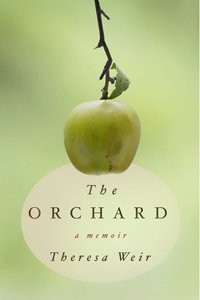 The Orchard: A Memoir
by
Theresa Weir
Original Publication Date:
2011
Genres:
Memoir
,
Non-Fiction
Source:
Advanced Reading Copy from the publisher.
Goodreads
The Orchard is the story of a street-smart city girl who must adapt to a new life on an apple farm after she falls in love with Adrian Curtis, the golden boy of a prominent local family whose lives and orchards seem to be cursed. Married after only three months, young Theresa finds life with Adrian on the farm far more difficult and dangerous than she expected. Rejected by her husband's family as an outsider, she slowly learns for herself about the isolated world of farming, pesticides, environmental destruction, and death, even as she falls more deeply in love with her husband, a man she at first hardly knew and the land that has been in his family for generations.
The Orchard: A Memoir by Theresa Weir is a poetic remembrance of love, loss, and grief.
When Theresa Weir was 21, she met apple farmer Adrian Curtis. After a whirlwind romance, they were married three months later. Neither of them has any idea of what marriage means. They are too young and hardly know each other.
Table of Contents
Theresa Weir Settles With Her Husband On An Apple Farm In An Orchard
The farm has been in the family for generations, and Adrian is groomed as the heir apparent, even though it has a reputation as a "cursed" place.
Theresa has no idea about what farming is all about, and she is rejected by her new husband's parents because she is an outsider. She gradually comes to realize that his parents will never really accept her, even after she has two children.
Her relationship with Adrian's mother is particularly bitter. The mother-in-law is a woman whose husband avoids her and manages to alienate even her grandchildren.
Another enemy is the codling moth. Adrian and his family wage a bitter battle to keep the moth from destroying the apples. The apples are continually sprayed with pesticides to kill the vermin.
Throughout the book, both Theresa and Adrian are uneasy about the continual use of pesticides. It is the 1970s, and farmers know that pesticides are not particularly safe.
Will their marriage survive both family crises and the possible destruction of the orchard? Will the apples survive? What price does one pay for using chemicals against nature?
Theresa and Adrian forge a strong relationship based on love and family. Adrian is not particularly close to his mother, either, but he feels strong loyalty to taking over the farm from his family. Surprisingly the marriage survives, but what will be the cost of Adrian's loyalty to his parents?
Through the years of raising children, Theresa does discover a true vocation: writing. She becomes well known for the books published under her own name and that of a pseudonym: Anne Frasier. This gives her great satisfaction and is something that she accomplishes on her own.
Final Analysis
I found this book haunting and moving. There was a tone of heartbreak throughout, but I had a curiosity to find out what would happen. The book kept building to the inevitably tragic climax.
It was interesting to find out that farmers are not naïve about the use of pesticides, but feel it is their only hope against such destructive enemies such as the codling moth.
Adrian acknowledges, however, that he would have preferred to use organic methods. But it was too late.
The only thing that puzzles me about the book is the lack of reference to Rachel Carson's classic treatise against the indiscriminate use of pesticides, Silent Spring.
Surely Theresa Weir must be aware of that groundbreaking book. Carson's opus appeared in the early 1960s, was strongly responsible for the banning of DDT, and was a critical factor in the emergence of the environmental movement. I kept thinking of "Silent Spring" as I read this book.
I am amazed that Theresa Weir is sane after her very difficult childhood, complete with a mother who resented her, and an equally difficult marriage because of the family issues and the struggles of farm life.
Adrian comes across as quite a nice man, but rather weak in his inability to stand up to his mother and make his own life. He pays a terrible price for that decision.
You can check out her website here. It's under her pen name Anne Frasier.
If you liked this review, you can also read my review of Perfection by Julie Metz.