Tisha: The Wonderful True Love Story of a Young Teacher in the Alaskan Wilderness by Robert Specht | Book Review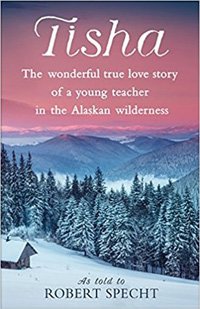 Tisha: The Wonderful True Love Story of a Young Teacher in the Alaskan Wilderness
by
Robert Specht
,
Anne Hobbs Purdy
Original Publication Date:
1976
Genres:
Adventure
,
Memoir
,
Non-Fiction
Source:
I purchased this book
Goodreads
In the unusual memoir Tisha, Anne Hobbs came to teach in harsh and beautiful Alaska in 1927. Running a ramshackle schoolhouse would expose her to more than just the elements. After she allowed Native American children into her class and fell in love with a half-Inuit man, she would learn the meanings of prejudice and perseverance, irrational hatred, and unconditional love. "People get as mean as the weather," she discovered, but they were also capable of great good. As told to Robert Specht, Anne Hobbs's true story has captivated generations of readers. Now this beautiful new edition is available to inspire many more.
Tisha: The Wonderful True Love Story of a Young Teacher in the Alaskan Wilderness is a wonderful story of the adventures of Anne Hobbs in Alaska.
When Anne was a young teacher she decided that she wanted adventure. She was inspired to teach in the wilderness of a remote village called Chicken, Alaska.
Table of Contents
Anne Hobbs Decided To Teach In Alaska
Hobbs runs into trouble almost from the beginning. She is determined to teach the natives as well as the whites and this causes trouble.
She is of part "Indian" (Native American) heritage, and she sees absolutely no reason why she should treat anyone differently because of their skin color or heritage.
Anne also takes in two "half-breed" children to live with her, and that almost causes her to lose her job.
In addition to her all this, she slowly falls in love with Fred Purdy (a "half-breed") and this causes many difficulties among the villagers.
This book was apparently told by Anne Purdy to Robert Specht in the 1970s. How much is actually true and how much is fictionalized is up for grabs.
There is a version of this story called Dark Boundary which I have not read yet. It is available on Kindle, and I definitely want to read it.
It was apparently written by Anne in the 1950s and is a much darker take on this time in her life.
Searching For Anne Hobbs Perry
There are some great YouTube videos from Alaska Relic Hunter in her series "Searching For Anne Hobbs Perry" in Chicken, Alaska.
Relic hunting the old Chicken, Alaska Ghost Town! Searching for Anne Hobbs Purdy Part 1
The Old Chicken, Alaska Ghost Town Part 2
Alone With the Ghost of Anne Hobbs Purdy Part 3
Final Analysis
This is an exciting book to read and gives you a sense of a long-gone time and place.
You really feel that you are in the frozen wilderness of remote Alaska! There are some very exciting moments and you can't wait to find out what happens next!
If you enjoyed this review, please read my review of Betty Smith's wonderful A Tree Grows In Brooklyn.
For more adventure, please read my review of Don't Let's Go to the Dogs Tonight: An African Childhood by Alexandra Fuller.
Please also check out my photos of the Clara Barton Schoolhouse in Bordentown, New Jersey.
Thank you for reading The Literary Lioness!