Don Ameche: The Kenosha Comeback Kid by Ben Ohmart | Book Review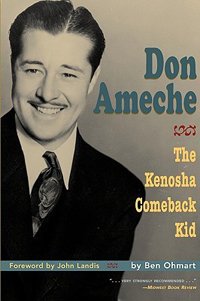 Don Ameche: The Kenosha Comeback Kid
by
Ben Ohmart
Original Publication Date:
2010
Genres:
Biography
,
Non-Fiction
Source:
I received this book from the publisher in exchange for an honest review.
Goodreads
The official biography of the Oscar-winning actor of Cocoon, and the great radio actor, Don Ameche. Written with the aid of the Ameche family, this first book features over 100 rare photos and many interviews with family and friends. Foreword by John Landis, director of Trading Places.
Don Ameche was a star of Hollywood's Golden Age. He starred or co-starred in several movies with Alice Faye and Tyrone Power.
He made many films in the 1930s and 1940s and then struggled with his career later in his life.
But Don Ameche made one of the most surprising comebacks in Hollywood history!
Table of Contents
You're Wanted on the Ameche!
He became famous after his starring role as the inventor of the telephone in The Story of Alexander Graham Bell."
His role in this film made him so famous that people joked "You're wanted on the Ameche!"
Ameche also was a very big radio star, as well as starring on Broadway and early television.
By the late 1970s, however, he was reduced to small parts in big television series. He loved performing, however, and he continued to work in touring theater companies, out of the spotlight.
1980s Comeback
Then he made one of the most surprising and delightful comebacks in Hollywood history with his delightful performance in Trading Places.
He got the part because Ray Milland did not pass the physical that all film companies require, and director John Landis called Ameche to read for the role of Mortimer Duke.
Eddie Murphy and Dan Aykroyd were wonderful in the lead roles, but Ameche and Ralph Bellamy (in my opinion) steal all of their scenes as the nasty Duke brothers.
Ameche went on to star in several more films, winning an Academy Award for his work in Cocoon.
He thoroughly enjoyed his career renaissance and was delighted to win the Oscar.
This biography is interesting because I learned so many things I didn't know about Don.
During the 1980s I saw him interviewed a few times, and it was interesting to read about Ameche's private life.
His Private Life Was Complex
There were no scandals, but that does not mean his relationships with his family were not complicated. Don and his wife Honore ("Honey") had six children, and he was a strict father.
Don was constantly busy with his movie and radio work and rarely home.
His sons were sent away to boarding school. This also helped to create a somewhat distant relationship with his children.
He stayed legally married to his wife from 1932 to her death in 1986. But they spent approximately the last two decades unofficially separated.
There are no explanations in the book for what transpired between them, except perhaps basic incompatibility.
One possible explanation: his wife did not like living in the spotlight, while Don seemed to thrive on it.
Don's devout Catholicism precluded him from getting a divorce. They just lived in different parts of the country and didn't see each other.
Final Analysis
I definitely get the impression from this fine biography that Ameche was a complex man, his children really didn't get to know their strict father, and his real personality remains somewhat elusive.
This book does go into great detail about Ameche's professional life. This includes every film and almost every television show he ever did.
It is profusely illustrated with wonderful photographs. It is well worth reading if you are a fan.
There's an interesting post on Through The Clutter: 65 Don Ameche Movies, Ranked Best to Worst.
Please read my reviews of film books on movie stars Lynn Bari and Barbara Payton!
Thank you for reading The Literary Lioness!