Foxy Lady: The Authorized Biography of Lynn Bari | Book Review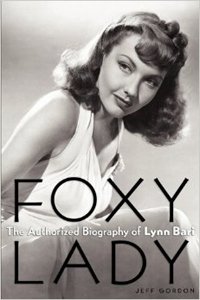 Foxy Lady: The Authorized Biography of Lynn Bari
by
Jeff Gordon
Original Publication Date:
2010
Genres:
Biography
,
Non-Fiction
Source:
I received this book from the publisher in exchange for an honest review.
Goodreads
Foxy Lady is based on author Jeff Gordon's extensive conversations with Bari, a warm and highly intelligent woman with a delicious sense of humor and the gift of total recall. Gordon's research also involved interviews with dozens of Lynn's friends, family members and professional associates, including Anthony Quinn, Alice Faye, Claire Trevor, Roddy McDowall, and George Montgomery.
Foxy Lady: The Authorized Biography of Lynn Bari tells the story of a beautiful movie star.
Lynn Bari was a beautiful, underrated actress of Hollywood's Golden Age. She made many films and became a reliable star at Twentieth Century Fox.
However, she never really became a top-rank star, despite being intelligent, beautiful with a statuesque figure, and adept at both comedy and drama.
Foxy Lady Lynn Bari was the Queen of "B" Films
She was known as the "Queen of B Films," a title she despised. When she did an A film, she typically played "the other woman."
But she had a sense of humor about it: "I'd go from one set to another, shooting people and stealing husbands." This sense of humor made her popular on her home lot of Twentieth Century Fox.
Here are 10 Things You Should Know About Lynn Bari:
Final Analysis
Jeff Gordon has written a thoroughly researched biography of Bari: Foxy Lady: The Authorized Biography of Lynn Bari.
Gordon analyzes why Bari never became the star big star she should have been: problems with her home life.
Lynn was saddled with an alcoholic mother and her father's apparent suicide, She also made terrible choices of romantic partners.
One of the main reasons that this book is so well-done is that the author actually interviewed Bari numerous times for the book.
He was also able to interview several of her friends and relatives to piece together Lynn's life. He worked to find out the true story of what happened to her.
This access to Bari and other people who knew her is invaluable. The author is also sympathetic and understanding towards his subject and the book is well-written, with many beautiful photos!
I highly recommend this book to other fans of Lynn Bari, and fans of The Golden Age of Hollywood.
You can read about Lynn Bari at Golden Girls of the Silver Screen.
For more on glamourous stars of Old Hollywood, please read my reviews of Kiss Tomorrow Goodbye: The Barbara Payton Story and Don Ameche: The Kenosha Comeback Kid.