When You Grow Up (1973) | Film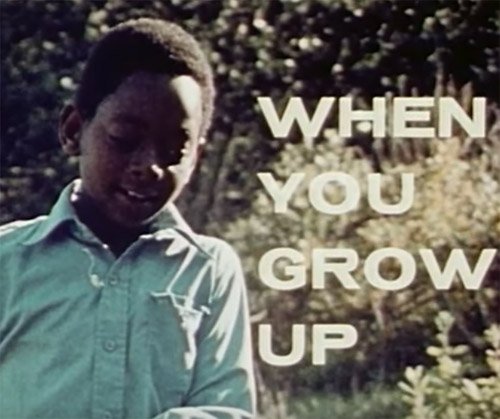 When You Grow Up
This short film is an interesting time capsule from 1973.
Fascinating educational short film from 1973, discussing possible future careers for its youthful audience.
Set to a mildly rocking score, this film shows the intended middle-school audience some of the jobs available for them in the future.
I like the fact that the film shows diversity with people of color and women represented in the film.
I also like that it shows people doing all kinds of blue-collar and white-collar work. They can all take pride in a job well done.
Analysis
We still had a manufacturing economy back then! Those jobs hadn't been sent overseas yet!
"Working is part of being grown-up."
From a shot-by-shot analysis by The Internet Archive:
Film for middle-school children about vocational choices and opportunities in the U.S.
Great shots of early 1970s children and adults pursuing everyday activities. Most of the shots are quick and take place in and around the city of Los Angeles.
VS young children (multicultural) doing household chores: taking out garbage, setting table, mowing lawn
Housecleaner
Housepainter
Librarian
Bicycle mechanic
Kids walking around and playing
You will grow up. You will get a job. Working. What do you want to be when you grow up?
Check out my post on Every Sunday (1936).
Also, check out some Difficult Times I experienced a few years ago.
Thank you for reading The Literary Lioness!