February House: The Story of W. H. Auden, Carson McCullers, Jane and Paul Bowles, Benjamin Britten, and Gypsy Rose Lee, Under One Roof in Brooklyn | Book Review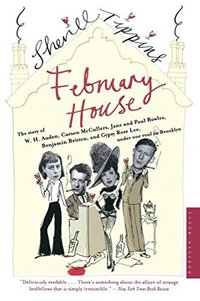 February House: The Story of W. H. Auden, Carson McCullers, Jane and Paul Bowles, Benjamin Britten, and Gypsy Rose Lee, Under One Roof in Brooklyn
by
Sherill Tippins
Original Publication Date:
2005
Genres:
Biography
,
Non-Fiction
Source:
I purchased this book
Goodreads
February House is the uncovered story of an extraordinary experiment in communal living, one involving young but already iconic writers — and the country's best-known burlesque performer — in a house at 7 Middagh Street in Brooklyn during 1940 and 1941. It was a fevered yearlong party fueled by the appetites of youth and by the shared sense of urgency to take action as artists in the months before America entered the war.

In spite of the sheer intensity of life at 7 Middagh, the house was for its residents a creative crucible. Carson McCullers's two masterpieces, The Member of the Wedding and The Ballad of the Sad Cafe, were born, bibulously, in Brooklyn. Gypsy Rose Lee, workmanlike by day, party girl by night, wrote her book The G-String Murders in her Middagh Street bedroom. Auden — who along with Britten was being excoriated at home in England for absenting himself from the war — presided over the house like a peevish auntie, collecting rent money and dispensing romantic advice. And yet all the while he was composing some of the most important work of his career.
February House: The Story of W. H. Auden, Carson McCullers, Jane and Paul Bowles, Benjamin Britten, and Gypsy Rose Lee, Under One Roof in Brooklyn is an interesting book about how a group of disparate but brilliantly creative people.
They lived and worked together in Brooklyn Heights for a short time in the late 1930s/early 1940s.
February House Was the Idea of George Davis
George Davis, a fiction editor at Harper's Bazaar, had the idea of a group of artistic people. He wanted poets, composers, writers, visual artists, etc. to live together under one roof.
They would each have their own rooms for low rent, and share the living room, dining room, and kitchen. They could inspire each other in their artistic endeavors.
Davis found a decrepit building in Brooklyn Heights. It was eventually dubbed "February House" because many of the residents had February birthdays.
World War II was already raging in Europe.
Several of the friends either visiting or living there were refugees from Europe. Others were Americans.
They each brought their own artistic and cultural sensibilities to the house.
This group included W.H. Auden, Carson McCullers, Benjamin Britten, and Gypsy Rose Lee (!)
There were also various friends and lovers who lived, worked, or visited the house.
There were problems, including lack of privacy and fierce partying. However, some of these artists produced some of their greatest works while in residence here.
Carson McCullers started work on A Member of the Wedding and Ballad of a Sad Café.
Gypsy Rose Lee started on her mystery novel The G-String Murders. Auden wrote some of his most famous poems.
The End of February House
When America entered the war, everyone went their separate ways. The building was eventually torn down to make way for a highway..
Many of the residents had great professional success, although several had tragic fates.
Tippins provides a very thorough analysis of the various projects the residents were working on during their time at February House.
You really get to see how they come upon their ideas and how they brought them to fruition. If you are interested in the working process of some creative geniuses, you might very well enjoy February House.
The Book Received Much Media Attention, Including An Opera!
Brownstoner had a fascinating article about February House:
February House, the Middagh Street Home of Literary Giants.
The book was turned into an opera! Here the New York Times describes it:
The opera was performed at the Public Theater:
Similar Books
You might also enjoy my review of The Letters of Sylvia Plath, Volume 1: 1940-1956 by Sylvia Plath (W.H. Auden taught Plath at Smith College).
For more on Brooklyn, please read my review of A Tree Grows In Brooklyn by Betty Smith.