The Letters of Sylvia Plath, Volume 1: 1940-1956, edited by Peter K. Steinberg | Book Review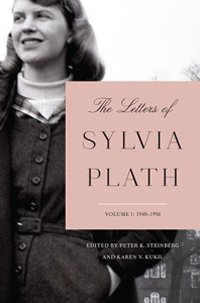 The Letters of Sylvia Plath, Volume 1: 1940-1956
by
Sylvia Plath
,
Peter K. Steinberg
Original Publication Date:
2017
Genres:
Non-Fiction
Source:
I purchased this book
Goodreads
A major literary event: the first volume in the definitive, complete collection of the letters of Sylvia Plath—most never before seen. The Letters of Sylvia Plath includes her correspondence from her years at Smith, her summer editorial internship in New York City, her time at Cambridge, her experiences touring Europe, and the early days of her marriage to Ted Hughes in 1956. Most of the letters are previously unseen, including sixteen letters written by Plath to Hughes when they were apart after their honeymoon. This magnificent compendium also includes twenty-seven of Plath's own elegant line drawings taken from the letters she sent to her friends and family, as well as twenty-two previously unpublished photographs.
Table of Contents
The Letters of Sylvia Plath Volume 1: 1940-1956 Clocks In At Over 1400 Pages
This giant volume goes all the way back to Plath's childhood correspondence from camp up to her days as a Fulbright Scholar at Cambridge University in England. This first volume ends right after her marriage to Ted Hughes.
These missives were sent to her family, friends, and lovers over many years, and many had never been published before.
Plath's Correspondence

The editors obviously worked very hard to obtain all the correspondence from friends and family. This was in response to the previous book, Letters Home, published in 1975 by Sylvia's mother, Aurelia Plath.
That volume was criticized for not being complete and for some editing of the letters, although I believe the mother's intention was to show "another side" of her daughter and a better understanding of the fraught mother-daughter relationship.
We learn about her eating habits, her stamp collections, and her interesting social life at Smith College.
Sylvia's productivity astounds me.
She was a brilliant student and deeply involved in campus activities. Plath also wrote literally thousands of letters, journal entries, poems, and short stories.
She also submitted many of these to prestigious publications. Plath also was struggling with what would now probably be considered clinical depression.
Comparing Plath's Correspondence to Her Journals
I find it especially interesting to compare her letters with her journal entries in The Unabridged Journals of Sylvia Plath. It's fascinating to read what she tells others while sometimes saying something completely different in her private journals.
Of course, being Sylvia, while her moods are constantly shifting, the writing is still darkly beautiful.
I haven't yet bought The Letters of Sylvia Plath Vol 2: 1956-1963, but I look forward to reading that book!
You can read about the publication of this book here.
You may read my review of The Bell Jar by Sylvia Plath.
You can also listen to Plath read her late poem "A Birthday Present."
Thank you for reading The Literary Lioness!