Bridget Jones's Diary | Book Review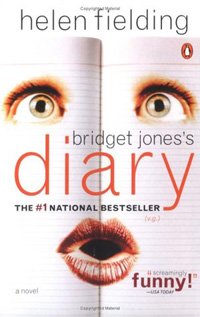 Bridget Jones's Diary
by
Helen Fielding
Original Publication Date:
1996
Genres:
Fiction
Source:
I purchased this book
Goodreads

Bridget Jones's Diary is the devastatingly self-aware, laugh-out-loud account of a year in the life of a thirty-something Singleton on a permanently doomed quest for self-improvement. Bridget resolves to: reduce the circumference of each thigh by 1.5 inches, visit the gym three times a week not just to buy a sandwich, form a functional relationship with a responsible adult and learn to program the VCR. With a blend of flighty charm, existential gloom, and endearing self-deprecation, Bridget Jones's Diary has touched a raw nerve with millions of readers the world round. Read it and laugh—before you cry, "Bridget Jones is me!"
Bridget Jones Keeps A Diary
Bridget Jones's Diary by Helen Fielding is at times laugh-out-loud funny. At other times I became annoyed with Bridget for her lack of self-awareness.
She is perpetually trying to quit smoking, cut down on drinking, lose weight, and pursue healthy relationships with men. She doesn't seem to try very hard to do these things, though.
She starts off with New Year's Resolutions, but it already doesn't go well at a New Year's party:
129 pounds (but post-Christmas), alcohol units 14 (but effectively covers 2 days as 4 hours of party was on New Year's Day), cigarettes 22, calories 5424.
Bridget gets involved with two men, including her boss Daniel, and attorney Mark Darcy.
Between these two very different men, complications ensue.
Bridget first thinks of her relationship with Daniel as a light-hearted sexy fling, but what kind of man is he really? Mark Darcy is also not who she thought he was, either.
Meanwhile, her own mother is having a mid-life crisis and becomes a most surprising television celebrity.
"Mum" starts having an affair with another man, crushing Bridget's father. She didn't even tell her husband that she was going to be on television:
As Bridget writes in her diary:
Dad was devastated. Mum hadn't even told him about the TV-presenting job. It seems he is in denial and has convinced himself Mum is just having an end-of-life crisis and that she already realizes she has made a mistake but is too embarrassed to ask to come back.
This man she is seeing gets Mrs. Jones into very serious legal trouble. She doesn't seem to understand that actions have consequences.
Final Analysis
The book goes into far darker places than the movie does. Her mother's mid-life crisis starts to have near-tragic consequences.
When this book came out in the 1990s, it was considered very modern.
Now it is dated. Bridget has problems programming the VCR and of course, there is no Internet, cell phones, or social media.
Nowadays fooling around with your boss might be seen as highly problematic. This is especially true since that boss is a known commitment-phobe.
The attitude toward women and sexuality seems really dated now.
While she can be very funny, Bridget comes across as self-pitying and her mother comes across as incredibly selfish.
Her "Mum" seems to be unable to understand how she is hurting those who love her.
The mother makes even worse choices than Bridget does. Mum seems completely oblivious to the havoc she is wreaking.
Hopefully, Bridget will learn from her mother's mistakes.
But she is really rather superficial, so I have my doubts.
This Book Was Incredibly Successful
It spawned several sequels and film adaptations.
Here is the trailer for the film starring Renee Zellweger, Colin, Firth, and Hugh Grant:
Helen Fielding discusses the "sexism" of the film version of the book (which she scripted).
Please read my review of Me Before You by Jojo Moyes and People You Meet On Vacation.