The Fur Person | Book Review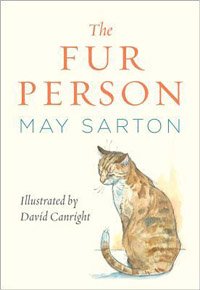 The Fur Person
by
May Sarton
Original Publication Date:
1957
Genres:
Animals
,
Fiction
,
Memoir
Source:
I purchased this book
Goodreads

In The Fur Person, May Sarton fictionalized an account of her cat Tom Jones's life and adventures prior to making the author's acquaintance begins with a fiercely independent, nameless street cat who follows the ten commandments of the Gentleman Cat—including "A Gentleman Cat allows no constraint of his person, not even loving constraint." But after several years of roaming, Tom has grown tired of his vagabond lifestyle, and he concludes that there might be some appeal after all in giving up the freedom of street life for a loving home. It will take just the right human companion, however, to make his transformation from Cat About Town to genuine Fur Person possible. Sarton's book is one of the most beloved stories ever written about the joys and tribulations inherent in sharing one's life with a cat.
The Fur Person Is Delightful
The Fur Person is May Sarton's account of her cat's life around the time they met.
Tom Jones was a cat about town. He was living the difficult life of a stray cat.
Tom decides that it might be time to settle down:
When he was about two years old, and had been a Cat About Town for some time, glorious in conquests, but rather too thin for comfort, the Fur Person decided that it was time he settled down. This question of finding a permanent home and staff was not one to be approached lightly . . .
Tom Jones does not really relish giving up his independence. One day he happens upon two women sharing a house – the sort of house he really likes.
The two ladies give him some delicious haddock, which he enjoys.
He likes that they do not shower him with too much attention: Tom is not quite ready for that:
The most remarkable thing about the two kind ladies was that they left him to eat in peace and did not say one word. They had the tact to withdraw into the next room and to talk about other things, and leave him entirely to himself.
Tom gradually becomes part of the family, but still tries to pretend that he is really independent. He eventually comes to realize that companionship and affection are really rather wonderful.
Final Analysis
I really enjoy this little book. You feel as if you are seeing the world through Tom's eyes. Highly recommended for all ages.
I also reviewed May Sarton's Journal of a Solitude.
I have also reviewed other books about cats: Homer's Odyssey, and Dewey: The Small-Town Library Cat Who Touched the World.
The Harvard Crimson wrote an essay about this book: Sarton; 'The Fur Person' Explores Cats and People.