Love Saves the Day | Book Review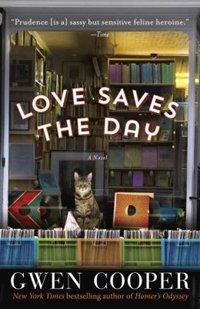 Love Saves the Day
by
Gwen Cooper
Original Publication Date:
2013
Genres:
Fiction
Source:
I purchased this book
Goodreads
Love at first sight: When five-week-old kitten Prudence meets a woman named Sarah in a deserted construction site on Manhattan's Lower East Side, she knows she's found the human she was meant to adopt. For three years their lives are filled with laughter, tuna, catnaps, music, and the unchanging routines Prudence craves. Then one day Sarah doesn't come home. From Prudence's perch on the windowsill, she sees Laura, the daughter who hardly ever comes to visit Sarah, arrive with her new husband. They're carrying boxes. Before they even get to the front door, Prudence realizes that her life has changed forever.
Gwen Cooper wrote the charming memoir about her amazing blind cat in Homer's Odyssey: A Fearless Feline Tale, or How I Learned About Love and Life with a Blind Wonder Cat.
She has since written a novel about a dysfunctional mother-daughter relationship and about the cat that brings them together but only after the death of the mother.
The Book Alternates Between A Human POV And A Feline POV
Love Saves the Day tells the story of a mother, Sarah, who raised her daughter in New York's then-shabby Alphabet City in the 1980s.
Sarah runs a record shop with only the coolest records, and the daughter, Laura, grew up in an area where the odd was normal. She was surrounded by rockers, druggies, and prostitutes.
A series of traumatic events happen in Laura's childhood that changes her perception of her mother forever. Laura is bitter over things she believed her mother did or didn't do.
When Sarah dies, she leaves behind Prudence, her loyal and smart cat.
Laura, now a successful lawyer, is going through her mother's things and must take Prudence home to share her apartment with her husband, Josh.
The novel in alternating chapters is sometimes in Prudence's voice (yes!), sometimes in Laura's, and sometimes in Sarah's.
In Prudence's chapters, you get a cat's-eye view of the situation. She doesn't understand that Sarah is dead. She keeps waiting for her to come home. It is touching because Prudence cannot figure out where Sarah is! It takes her quite a while to realize that Sarah is never coming back.
To Prudence, Laura is just another cat, and not a particularly affectionate one. Prudence is very upset about being in Laura's apartment because she instinctively feels that Laura does not want her there. Laura does associate Prudence with all her bad feelings about her mother.
Will Prudence and Laura finally learn to love each other?
Final Analysis
At first, it was odd to read some of the chapters in the cat's voice, but I actually found it touching and poignant. Laura may not come across as particularly likable at first, but her childhood was so fractured that you come to understand why she is the way she is. She has a fine career and is a fully functioning member of society.
Prudence just doesn't understand why Sarah never comes home! Cooper has a deep understanding of cats. Like her, I firmly believe that cats can be very wise.
Why is she now living in Laura's apartment? Where is Sarah?
Because of Prudence, Laura finally learns to come to grips with her complicated relationship with her mother. Prudence's innocent love does, indeed, save the day.
You see a promotional clip for this book:
And Gwen Cooper talks about the book here:
You will both laugh and cry reading this book, and Prudence will steal your heart!
You can read more about the book here.
If you enjoyed this post, please read my review of Homer's Odyssey: A Fearless Feline Tale, or How I Learned About Love and Life with a Blind Wonder Cat by the same author.