Five-Finger Discount: A Crooked Family History | Book Review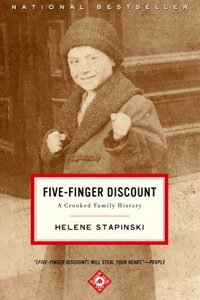 Five-Finger Discount: A Crooked Family History
by
Helene Stapinski
Original Publication Date:
2001
Genres:
Crime
,
Memoir
,
Non-Fiction
Source:
I purchased this book
Goodreads
With deadpan humor and obvious affection, Five-Finger Discount recounts the story of an unforgettable New Jersey family of swindlers, bookies, embezzlers, and mobster-wannabes. In the memoir Mary Karr calls "a page-turner," Helene Stapinski ingeniously weaves the checkered history of her hometown of Jersey City—a place known for its political corruption and industrial blight—with the tales that have swirled around her relatives for decades. Navigating a childhood of toxic waste and tough love, Stapinski tells an extraordinary tale at once heartbreaking and hysterically funny.
Five-Finger Discount Is About Stapinski's Family
Helene grew up in a family that was, shall we say, dysfunctional. This is described in her terrific book Five Finger Discount: A Crooked Family History.
She captures your attention right from the first paragraph:
The night my grandfather tried to kill us, I was five years old, the age I stopped believing in Santa Claus, started kindergarten, and made real rather than imaginary friends.
She continues:
Everyone in Jersey City knew Grandpa – Italian Grandpa – as Beansie because when he was young, he stole a crate of beans from the back of a truck. Details about his life started to bubble into my consciousness during the summer of 1970, the year my memory kicked in full force. There were stories about Grandpa "going away" to Trenton for murder.
She tells us all about her family's (mis)adventures while also giving a real feeling of Jersey City's history.
Surprise, surprise, Jersey City had several crooked mayors. Crooked politicians in New Jersey? Say it ain't so!
Helene has a great sense of humor, calling Jersey City residents "Jersey Citizens" and saying about her trips to Journal Square:
Because of the Journal Square bus and Path station, the area also attracted the homeless, who back then were called bums.
Parts of this book are very funny and some of it is very sad. Helene, however, was smart and made something of her life.
Stapinski Survived
Stapinski graduated from New York University and Columbia University and has worked as a journalist. She has written for The New York Times and The Washington Post.
Her story makes for fascinating reading.
You can check out her website.
Stapinski discusses the book:
Helene Stapinski: Keeping it in the family
She also discussed the book on a New Jersey-based show:
Please also read about a VERY different New Jersey family in my review of Cheaper By The Dozen.
You can also check out my review of Mockingbird: A Portrait of Harper Lee: From Scout to Go Set a Watchman.
Please check out my New Jersey blog New Jersey Memories.
Thank you for reading The Literary Lioness!