Mockingbird: A Portrait of Harper Lee: From Scout to Go Set a Watchman by Charles J. Shields | Book Review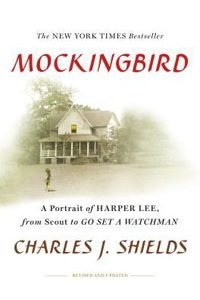 Mockingbird: A Portrait of Harper Lee: From Scout to Go Set a Watchman
by
Charles J. Shields
Original Publication Date:
Originally published 2006, this edition 2016
Genres:
Biography
,
Non-Fiction
Goodreads
To Kill a Mockingbird—the twentieth century's most widely read American novel—has sold thirty million copies and still sells a million yearly. In this in-depth biography, first published in 2006, Charles J. Shields brings to life the woman who gave us two of American literature's most unforgettable characters, Atticus Finch and his daughter, Scout. Years after its initial publication—with revisions throughout the book and a new epilogue—Shields finishes the story of Harper Lee's life, up to its end.
I recently re-read To Kill A Mockingbird by Harper Lee while also reading the expanded biography Mockingbird: A Portrait of Harper Lee by Charles J. Shields.
I hadn't read the novel since high school. I've seen the fine film based on the novel, of course.
Reading the novel again is a different matter altogether.
Table of Contents
Harper Lee and Truman Capote Were Neighbors
Harper Lee grew up in Monroeville, Alabama.
Her father, A.C. Lee became a title lawyer. He once defended two black men accused of murdering a white storekeeper. Both clients, a father, and a son, were hanged.
Harper's best childhood friend was Truman Persons, who later became famous as Truman Capote. Capote would become the authors of Breakfast at Tiffany's and In Cold Blood.
Just before Harper became famous for her novel, she acted as a researcher for Truman's In Cold Blood. It is truly amazing that such a small town produced two literary giants.
They found each other to be kindred spirits since both of them were misfits in their tiny town of Monroeville, Alabama.
They were different from everyone else. Harper was a rebel in school and at home (I had always assumed that she was shy), and Truman was different because…well, he was just Truman!
At The University of Alabama, she wrote for the school newspaper and humor magazine. She also attended a summer session at Oxford University in England.
She left without finishing her law degree. She wanted to write.
Harper Lee Writes To Kill A Mockingbird
Harper moved to New York City so that she could write. Being away from Alabama helped give her a perspective on her life there. She supported herself as an airline reservationist while writing as much as she could.
Lee and Capote were profoundly affected by living in Monroeville. Harper based the town and citizens of Maycomb in To Kill a Mockingbird on Monroeville.
Truman was the model for the character of Dill. At least two other distinguished writers, Mark Childress, and Cynthia Tucker grew up in Monroeville. Astonishing!
The novel, is one of the great American novels, winning the Pulitzer Prize for Fiction. There is a reason why it remains so popular today, and why it is taught in many schools in the United States.
Final Analysis
Shields wrote the biography without Harper Lee's permission. He makes a great effort to explore the mystery surrounding the elusive author.
This is the updated version of the book, which explains the controversial publication in 2015 of To Set A Watchman, something Lee was vociferously against:
Go Set a Watchman is either the sequel to To Kill a Mockingbird, a rough draft of it, or something in between — it depends on whom you ask.
Harper Lee died in 2016.
I found it fascinating. She is not a recluse, she just is tired of answering the same questions over and over.
It is obvious that Shields did a great deal of research for his biography and one that makes a valuable contribution to the mystery surrounding a great American novel.
I found Mockingbird: A Portrait of Harper Lee to be a fascinating glimpse of an interesting woman who wrote a timeless novel that is filled with unforgettable characters, empathy, and a deep sense of humor.
If you liked this post, please read my review of So Many Books, So Little Time: A Year of Passionate Reading by Sara Nelson.
To read more about Harper Lee, you can check these out:
The Measure Of Harper Lee: A Life Shaped By A Towering Text
Thank you for reading The Literary Lioness!