Tomorrow Will Be Better by Betty Smith | Book Review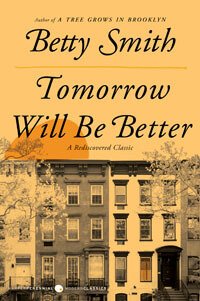 Tomorrow Will Be Better
by
Betty Smith
Original Publication Date:
1948
Genres:
Fiction
,
American Literature
Source:
I purchased this book
Goodreads

Tomorrow Will Be Better tells the story of Margy Shannon, a shy but joyfully optimistic young woman just out of school who lives with her parents and witnesses how a lifetime of hard work, poverty, and pain has worn them down. Her mother's resentment toward being a housewife and her father's inability to express his emotions result in a tense home life where Margy has no voice. Unable to speak up against her overbearing mother, Margy takes refuge in her dreams of a better life.
Tomorrow Will Be Better
Margy Shannon is a 17-year-old girl in 1920s Brooklyn who doesn't ask for much in life.
She is an only child and comes from a miserable family living in poverty.
Her parents have given up on expecting anything better. Her mother is extremely negative and cooks the exact same meal for dinner every single night.
But Margy is more optimistic.
Margy had left school at sixteen after finishing two years at Eastern District High. She had looked forward to leaving school, getting a job, being independent, and having a little money of her own. She had been anxious to start leading a life of her own.
But even after getting a job she likes, she is disappointed. Her terrible mother won't let her be happy:
But the expected independence had turned out to be merely technical. Her mother kept the silver cord taut and vibrant with possessiveness, and Margy, like many Brooklyn girls from poor families, had to turn in all of her salary at home.
Margy Yearns For A Happy Life
Margy yearns for a happy family of her own.
When Margy gets her next job, she feels a certain connection with her boss, a lawyer.
But he has miserably devoted his life to his mother. It never occurs to her that he starts to have feelings for Margy, but is in denial.
She is desperate to get out. Hard work doesn't seem to be enough.
Margy has never been on a date. She has a bit of a crush on Frankie, a neighborhood boy she has known for years.
Frankie also comes from an unhappy home. He is hard-working but it doesn't seem to be appreciated by his equally negative home life.
He also doesn't seem to like girls very much and seems to have a loathing at the very thought of sex.
He seems to be asexual.
They are two lonely people who need to get away from their families and the perpetual, grinding poverty.
Frankie and Margy get married even though they are not in love.
Margy resigns from her job because women usually did when they got married.
Eventually, Margy does become pregnant. Frankie is NOT happy about the impending baby, because even though he works hard, living only on his salary still keeps them poor.
Final Thoughts
Tomorrow Will Be Better is a sad book. Margy is not asking for much, just a happy home.
This book was Betty Smith's follow-up to her classic 1943 novel, A Tree Grows in Brooklyn.
It was considered a disappointment at the time. A Tree was a very difficult book to follow because it was so wildly successful.
Margy is not as ambitious or as fiercely intelligent as Francie Nolan, the main character of A Tree Grows in Brooklyn. This novel doesn't take place over as many years and doesn't have as many intriguing characters.
So this book is on a much smaller scale.
However, I still like this book very much.
Why?
Betty Smith had a real understanding of the poor people of Brooklyn in the early twentieth century. , since that is where she grew up. She doesn't make excuses for them, but at that time it was very difficult to break out of that cycle of poverty.
A great article on this novel:
Tomorrow Will Be Better: Betty Smith's 'Rediscovered' Novel Is A Genuine Treasure
For more by Betty Smith, please read my review of her classic coming-of-age novel A Tree Grows In Brooklyn.
Thank you for reading The Literary Lioness!