The Tourist Trail by John Yunker | Book Review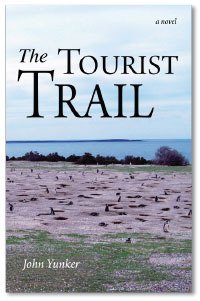 The Tourist Trail
by
John Yunker
Original Publication Date:
2010
Genres:
Fiction
,
American Literature
Source:
Advanced Reading Copy from the publisher.
Goodreads
The Tourist Trail is an exciting thriller! Biologist Angela Haynes is accustomed to dark, lonely nights as one of the few humans at a penguin research station in Patagonia. She has grown used to the cries of penguins before dawn, and spending most of her days in one of the most remote regions on Earth. if for no other reason than to protect her birds and her work. Against the backdrop of the Southern Ocean, The Tourist Trail weaves together the stories of Angela as well as FBI agent Robert Porter, dispatched on a mission that unearths a past he would rather keep buried; and Ethan Downes, a computer tech whose love for a passionate activist draws him into a dangerous mission.
The Tourist Trail by John Yunker is an exciting, thoughtful, intelligent, and extremely well-written ecothriller.
Table of Contents
The Tourist Trail Is An Exciting Ride!
This novel continually surprised me and kept challenging me at every turn.
I sometimes make assumptions about characters when I first started reading about them.
But in this book, my assumptions were suddenly shattered – turned upside down and inside out.
I love the fact that the characters are complicated – just like real people, and not everything – or everyone – is as they seem.
The main characters include Angela, a naturalist who has spent 15 years studying penguins in Patagonia, Robert, an FBI agent who has a secret past,
Ethan, a naïve and awkward computer programmer chasing an impossible romantic dream, and Aeneas, a hard-drinking animal rights activist who has spent his life pursuing whalers and fishermen — at any cost.
Putting It Together
Aeneas is the man who brings all these disparate characters together.
Angela is a lonely naturalist studying penguins in Patagonia. When Aeneas washes ashore, there is an immediate attraction between them.
Angela has a long history of studying penguins:
Angela studied Magellanic penguins, named by Ferdinand Magellan in the sixteenth century when the Europeans were busy naming the planet after themselves.

At last count, Punta Tombo was populated by 200,000 breeding pairs – a count Angela was in the process of updating.
Robert, along with another FBI agent, is actively pursuing Aeneas. They intend to arrest him for ecoterrorism.
Robert is not a cardboard caricature of an FBI agent. He is not entirely unsympathetic to Aeneas' cause. His ambivalent feelings about his quarry provide much of the tension of the novel.
Ethan has fallen deeply in love with Annie, an animal rights activist, and his polar opposite. When she disappears, he sets out on a quest to find her.
Final Analysis
When these four characters converge, the tension becomes almost unbearable, racing along to a wholly satisfying conclusion.
Warning: There is some graphic violence in this novel including both people and animals which can be difficult to read, but they are essential to the plot.
The Tourist Trail by John Yunker is a novel that I highly recommend.
You can also check out John Yunker's website. He writes about many different subjects, with a great emphasis on environmental issues and animal rights.
You can also watch him being interviewed in this video:
In this video, The Tourist Trail is discussed (along with several others) in this video that discusses Ecofiction and how writers can blend environmental science and conservation with fictional techniques.
If you enjoyed this review, please read my reviews on No Greater Sacrifice by John C. Stipa and Following Atticus: Forty-Eight High Peaks, One Little Dog, and an Extraordinary Friendship by Tom Ryan | Book Review.
Thank you for reading The Literary Lioness!