Paris in Love by Eloisa James | Book Review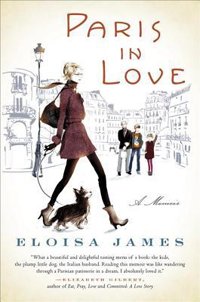 Paris in Love
by
Eloisa James
Original Publication Date:
2012
Genres:
Memoir
,
Non-Fiction
Source:
I borrowed this book from the library.
Goodreads
In Paris in Love, bestselling romance author Eloisa James took a sabbatical from her day job as a Shakespeare professor, she also took a leap that many people dream about: She sold her house and moved her family to Paris. With no classes to teach, no committee meetings to attend, no lawn to mow or cars to park, Eloisa revels in the ordinary pleasures of life—discovering corner museums that tourists overlook, chronicling Frenchwomen's sartorial triumphs, walking from one end of Paris to another. . Paris in Love invites the reader into the life of a New York Times bestselling author and her spirited, enchanting family, framed by la ville de l'amour.
Paris is Love is Eloisa James' account of the year that her family, including her husband and two children, spent in the French capital.
After she had a bout with cancer, James and her husband took sabbaticals from their American university jobs to live in France.
Table of Contents
Her Family Spent A Year In France
The entries are short, more like blog posts. They make perfect light reading at bedtime.
Some readers have complained that the book is too much about the author's personal experiences in the beautiful and historic city. Isn't that what a memoir is supposed to be?
This is not a dry account of the family's days in Paris. They are only in France for a year, and they are not going to get to know people in any real depth.
Final Analysis
It is a positive book.
The delightful museums and shops are thoroughly enjoyed by the entire family.
The author IS surprised by the number of homeless people and how many bad restaurants Paris has to offer.
Her children are enrolled in an Italian school in Paris. Their attempts to become fluent in both French and Italian are hilarious.
The book is a mostly lighthearted account of an enviable time in their lives.
You can check out her website here.
For more about France, please read my review of My Life in France by Julia Child.
Thank you for reading The Literary Lioness!