The Price of Salt by Patricia Highsmith | Book Review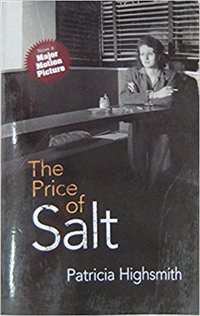 The Price of Salt
by
Patricia Highsmith
Original Publication Date:
1952 (original)
Genres:
American Literature
,
Fiction
,
LGTBQ
Source:
I purchased this book
Goodreads

The Price of Salt begins with a chance encounter between two lonely women leads to a passionate romance in this lesbian cult classic. Therese, a struggling young sales clerk, and Carol, a homemaker in the midst of a bitter divorce, abandon their oppressive daily routines for the freedom of the open road, where their love can blossom. But their newly discovered bliss is shattered when Carol is forced to choose between her child and her lover.
The Price of Salt by Patricia Highland (writing under the pseudonym Claire Morgan, is a novel about two women who fall deeply in love. It's not just about the sexual aspect of their relationship, which doesn't occur until about ¾ of the way through the book, but about the nature of love.
Table of Contents
In The Price Of Salt Is A Love Story
One day a customer named Carol comes in to purchase Christmas presents. Therese immediately feels something. She cannot take her eyes off Carol. After Carol purchases some gifts to be delivered, Therese sends her a Christmas card.
They become friends, but there is always an underlying tension. Therese has a boyfriend, Richard, who wants to marry her, but she doesn't love him.
Carol is married, but about to be divorced from her husband. Her husband wants custody of their daughter. Therese is at first confused about the tumult of her feelings for Carol. She doesn't feel this way about Richard. Therese quickly realizes she is in love with Carol.
Carol and Therese Go On A Road Trip
Carol and Therese eventually embark on a road trip together, where they finally face their feelings for each other and become lovers. But what will happen to their love when Carol's husband finds out?
The Price of Salt is extremely well written. The novel is told from Therese's perspective. Therese's feelings for Carol are immediate and honest.
Carol is a more enigmatic character, and you're not sure how she really feels for much of the book.
Patricia Highland originally published this book in 1952 under the pseudonym Claire Morgan because she didn't want to be known as a "lesbian author." In 1990 the book was republished as "Carol" under her real name.
The novel was made into the 2015 film "Carol" starring Cate Blanchett and Rooney Mara.
Further Reading
You can read about A Secret Literary Love Hidden in the Margins of The Price of Salt.
You may also be interested in reading my review of May Sarton's Journal Of A Solitude and Cassandra at the Wedding by Dorothy Baker.
Thank you for reading The Literary Lioness!