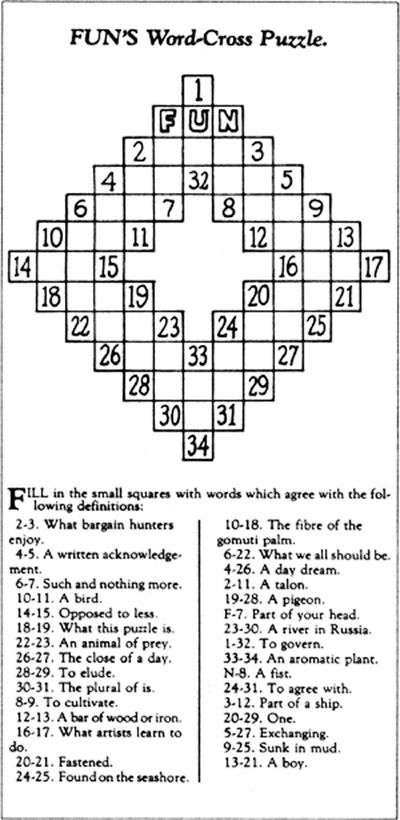 On December 21, 1913 the first modern crossword puzzle, created by Arthur Wynne, was published in The New York World, one of many newspapers in New York City in that time. Wynne called it a "word-cross", but the name was eventually changed because of a typesetting error.

The puzzle was based on earlier forms of puzzles, and was diamond-shaped. Crossword puzzles were successful almost from the beginning, and eventually became the famous square crossword puzzles we love today.

This weekend the Google Doodle is devoted to the crossword puzzle. There is a delightful article about it from the Washington Post here.

You can read about the history of crossword puzzles here, and an article about creating crossword puzzles in this excellent article from The Atlantic: Party Down: 100 Years of the Crossword Puzzle.
Ironically, The New York Times disapproved of crossword puzzles at first, but now The New York Times crosswords are celebrated as some of the most difficult.

There is a terrific blog devoted to The New York Times puzzles: Rex Parker Does the NY Times Crossword Puzzle. I heartily suggest a visit.